Florilège vocal 2008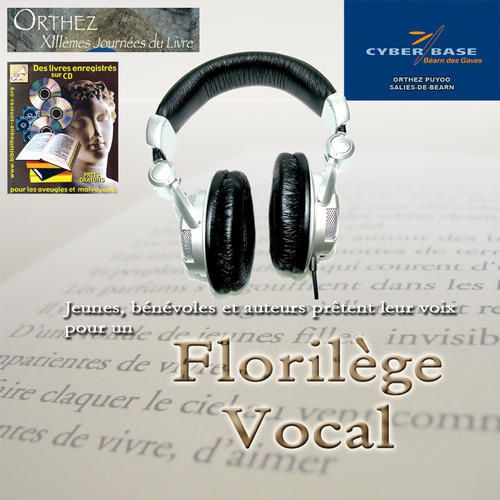 Voici les lectures d'extraits enregistrés à l'occasion des Journées du Livre d'Orthez en octobre 2008.
Grâce à la Bibliothèque Sonore d'Orthez et à la Cyber-base Béarn des Gaves, des élèves, des jeunes de l'IME, des volontaires et des auteurs ont pu enregistrer ce "florilège vocal".
Ces extraits sont agrémentés de quelques morceaux de musique libre dégotés sur Jamendo. Il s'agit des pistes 15, 25, 38 et 51.
Vous pouvez maintenant télécharger ce florilège vocal en deux parties sous forme de fichiers au format Zip contenant des fichiers MP3.
Cliquer sur les liens ci-dessous puis la phrase en anglais
"
Click here to download the requested file..
"
Florilège Vocal Partie 1

Florilège Vocal Partie 2

Cliquez ici pour avoir les titres correspondants à chaque fichier MP3.


Pour écouter un extrait, cliquez sur le bouton vert avec un triangle situé au dessous du titre et patientez quelques secondes....

Bonne écoute !

1 Introduction
dewplayer:http://www.fileden.com/files/2008/12/10/2218067/1-florilege_vocal.mp3&

2 Béatrice Libert
dewplayer:http://www.fileden.com/files/2008/12/10/2218067/204-Anasofia.mp3&
3 Jean-Louis Fournier - Le petit Meaulnes
dewplayer:http://www.fileden.com/files/2008/12/10/2218067/3-florilege_vocal.mp3&
4 Blanc
dewplayer:http://www.fileden.com/files/2008/12/10/2218067/4-florilege_vocal.mp3&

5 Cyntia Winter - L'amitié n'a pas d'âges
dewplayer:http://www.fileden.com/files/2008/12/10/2218067/5-florilege_vocal.mp3&

6 Guillaume Apollinaire

dewplayer:http://www.fileden.com/files/2008/12/10/2218067/6-florilege_vocal.mp3&
7 Citation
dewplayer:http://www.fileden.com/files/2008/12/10/2218067/7-florilege_vocal.mp3&

8 Francis Jammes - Avec les pistolets
dewplayer:http://www.fileden.com/files/2008/12/10/2218067/8-florilege_vocal.mp3&

9 Mylème Fondecave - Des nappes en coton
dewplayer:http://www.fileden.com/files/2008/12/10/2218067/9-florilege_vocal.mp3&

10 Sempé/Goscinny - Le Petit Nicolas (Le golf miniature)
dewplayer:http://www.fileden.com/files/2008/12/10/2218067/10-florilege_vocal.mp3&

11 Citation
dewplayer:http://www.fileden.com/files/2008/12/10/2218067/11-florilege_vocal.mp3&

12 Alain Gérard - Le cirque (extrait 1)
dewplayer:http://www.fileden.com/files/2008/12/10/2218067/12-florilege_vocal.mp3&

13 Anatomie des abus
dewplayer:http://www.fileden.com/files/2008/12/10/2218067/13-florilege_vocal.mp3&

14 Citation
dewplayer:http://www.fileden.com/files/2008/12/10/2218067/14-florilege_vocal.mp3&

15 Maya Filipic - Stories from Emona I
dewplayer:http://www.fileden.com/files/2008/12/10/2218067/15-florilege_vocal.mp3&

16 Laurent Frontère - Voyage à dos de mérou
dewplayer:http://www.fileden.com/files/2008/12/10/2218067/600_frontere%20corr.mp3&

17 Citation
dewplayer:http://www.fileden.com/files/2008/12/10/2218067/17-florilege_vocal.mp3&

18 Sarah - Bonjour
dewplayer:http://www.fileden.com/files/2008/12/10/2218067/18-florilege_vocal.mp3&

19 Rouge
dewplayer:http://www.fileden.com/files/2008/12/10/2218067/19-florilege_vocal.mp3&

20 Crestian Lamaison - Dessins en retard
dewplayer:http://www.fileden.com/files/2008/12/10/2218067/20-florilege_vocal.mp3&

21 Citation
dewplayer:http://www.fileden.com/files/2008/12/10/2218067/21-florilege_vocal.mp3&

22 Madeleine Chapsal - J'ai toujours raison
dewplayer:http://www.fileden.com/files/2008/12/10/2218067/22-florilege_vocal.mp3&

23 Claude Jacquot - Nues tout simplement
dewplayer:http://www.fileden.com/files/2008/12/10/2218067/602_jacquot%20corr.mp3&

24 Citation
dewplayer:http://www.fileden.com/files/2008/12/10/2218067/24-florilege_vocal.mp3&

25 Lull - Boy in the night
dewplayer:http://www.fileden.com/files/2008/12/10/2218067/25-florilege_vocal.mp3&

26 Jessica - Conte de fées
dewplayer:http://www.fileden.com/files/2008/12/10/2218067/26-florilege_vocal.mp3&

27 Suzanne Gossot - La bûcheronne
dewplayer:http://www.fileden.com/files/2008/12/10/2218067/27-florilege_vocal.mp3&

28 Citation
dewplayer:http://www.fileden.com/files/2008/12/10/2218067/28-florilege_vocal.mp3&

29 Baudelaire - Le parfum
dewplayer:http://www.fileden.com/files/2008/12/10/2218067/107%20YVIN%20Nicolas%20corr.mp3&

30 Jacques Castaings - Le cabanon de l'amour
dewplayer:http://www.fileden.com/files/2008/12/10/2218067/30-florilege_vocal.mp3&

31 Citation
dewplayer:http://www.fileden.com/files/2008/12/10/2218067/31-florilege_vocal.mp3&

32 Colette Carbonnier - Il n'a pas voulu d'elle
dewplayer:http://www.fileden.com/files/2008/12/10/2218067/601_carbonnier%20corr.mp3&

33 Citation
dewplayer:http://www.fileden.com/files/2008/12/10/2218067/33-florilege_vocal.mp3&

34 De la paume au tennis
dewplayer:http://www.fileden.com/files/2008/12/10/2218067/34-florilege_vocal.mp3&

35 Victorien Sardou
dewplayer:http://www.fileden.com/files/2008/12/10/2218067/35-florilege_vocal.mp3&

36 Citation
dewplayer:http://www.fileden.com/files/2008/12/10/2218067/36-florilege_vocal.mp3&

37 Anna Gavalda
dewplayer:http://www.fileden.com/files/2008/12/10/2218067/37-florilege_vocal.mp3&

38 Galdson - Roots
dewplayer:http://www.fileden.com/files/2008/12/10/2218067/38-florilege_vocal.mp3&

39 Alain Hoger - Maintenant produire et créer un devenir post-marchand
dewplayer:http://www.fileden.com/files/2008/12/10/2218067/39-florilege_vocal.mp3&

40 Blandine Aubin - Gare à la maîtresse
dewplayer:http://www.fileden.com/files/2008/12/10/2218067/40-florilege_vocal.mp3&

41 Jean-Claude Auriol - Mémoire de papier
dewplayer:http://www.fileden.com/files/2008/12/10/2218067/41-florilege_vocal.mp3&

42 Bleu
dewplayer:http://www.fileden.com/files/2008/12/10/2218067/42-florilege_vocal.mp3&

43 Michel Desainthelme - Le balayeur de nuages
dewplayer:http://www.fileden.com/files/2008/12/10/2218067/43-florilege_vocal.mp3&

44 François David
dewplayer:http://www.fileden.com/files/2008/12/10/2218067/44-florilege_vocal.mp3&

45 Hervé - Présentation
dewplayer:http://www.fileden.com/files/2008/12/10/2218067/45-florilege_vocal.mp3&

46 Allan W.Eckert - La rencontre
dewplayer:http://www.fileden.com/files/2008/12/10/2218067/46-florilege_vocal.mp3&

47 Paul Chose - Printemps incertain
dewplayer:http://www.fileden.com/files/2008/12/10/2218067/616_Dessinet.mp3&

48 Marie de France - Le Malheureux
dewplayer:http://www.fileden.com/files/2008/12/10/2218067/48-florilege_vocal.mp3&

49 Mélanie - Il était une fois
dewplayer:http://www.fileden.com/files/2008/12/10/2218067/49-florilege_vocal.mp3&

50 Citation
dewplayer:http://www.fileden.com/files/2008/12/10/2218067/50-florilege_vocal.mp3&

51 Tryad - Listen
dewplayer:http://www.fileden.com/files/2008/12/10/2218067/51-florilege_vocal.mp3&

52 Gilles Vincent - Djebel
dewplayer:http://www.fileden.com/files/2008/12/10/2218067/52-florilege_vocal.mp3&

53 Histoire du sport
dewplayer:http://www.fileden.com/files/2008/12/10/2218067/53-florilege_vocal.mp3&

54 Citation
dewplayer:http://www.fileden.com/files/2008/12/10/2218067/54-florilege_vocal.mp3&

55 Hélène Korwin - Casimir a disparu
dewplayer:http://www.fileden.com/files/2008/12/10/2218067/55-florilege_vocal.mp3&

56 Louise de Vilmorin
dewplayer:http://www.fileden.com/files/2008/12/10/2218067/201_QuentinFedensieu.mp3&

57 Raymond San Geroteo - La fille de l'anarchiste
dewplayer:http://www.fileden.com/files/2008/12/10/2218067/57-florilege_vocal.mp3&

58 Citation
dewplayer:http://www.fileden.com/files/2008/12/10/2218067/58-florilege_vocal.mp3&

59 Yannick Tonner - Voyage dans les Pyrénées
dewplayer:http://www.fileden.com/files/2008/12/10/2218067/59-florilege_vocal.mp3&

60 La soule
dewplayer:http://www.fileden.com/files/2008/12/10/2218067/60-florilege_vocal.mp3&

61 Alain Gérard - Le cirque (extrait 2)
dewplayer:http://www.fileden.com/files/2008/12/10/2218067/61-florilege_vocal.mp3&

62 Citation
dewplayer:http://www.fileden.com/files/2008/12/10/2218067/62-florilege_vocal.mp3&


Partager cette page
Pour être informé des derniers articles, inscrivez vous :